Christina Rossetti is an English poet who came from a very talented family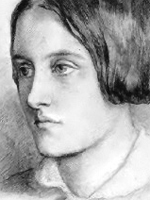 Rossetti wrote many poems, including Bride Song, A Better ResurectionResurection , Consider the Lilies of the FieldField , A Daughter of Eve, Remember, She Sat and Sang, and The World.
Rossetti was born on December 5, 1830. Her parents, Gabriele and Frances, were both talented, as were her brothers and sisters. She also knew Charles Dodgson, penname Lewis Caroll.
Ad blocker interference detected!
Wikia is a free-to-use site that makes money from advertising. We have a modified experience for viewers using ad blockers

Wikia is not accessible if you've made further modifications. Remove the custom ad blocker rule(s) and the page will load as expected.